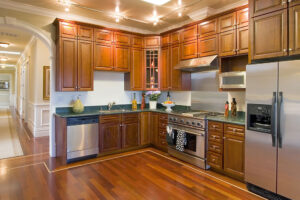 We specialize in hand-made custom cabinets – from kitchen and bath cabinets to entertainment centers and commercial grade casework.
All our work is made to meet your specifications. We guarantee that your vision, coupled with our craftsmanship, will lead to a one-of-a-kind product that highlights your individuality.
All our custom-made cabinets are crafted by skilled and talented locals who support the construction industry, using domestic grade A materials and hardware.
Realizing your vision starts with our Custom-Made Cabinets service.
Our process begins with the concept phase, a one-on-one free consultation where the proposed project and its materials and design are discussed. These would be the different aspects covered:
Door styles – From traditional to modern, there are hundreds of different door styles to choose from. You can look at some of our most popular doors for inspiration.
Wood species and laminate – Quality begins with the finest materials. Whether you want a warm and rustic feel or a streamlined and modern appeal, you can achieve that by choosing from our selection of woods, laminates, and veneers.
Finishes – We are capable of creating a wide variety of looks that can be tailored to any home. Our finishing techniques can give you a solid color or a grain-enhancing stain, both of which will show off the beauty of the wood used. With an excellent protective topcoat, your finish will display long-lasting beauty.
Storage and convenience – For custom cabinets that are as functional as they are beautiful, we offer a wide selection of efficient and stylish built-in storage and convenience features.
Construction features – We take pride in the quality of our products and the craftsmanship of our staff. Whether it's for your bath or your kitchen, cabinet construction is done with the expectation of frequent use. For this reason, every piece of cabinetry we build meets our high standards and delivers beauty, function, and durability.
After the initial concept phase, we follow with the free design consultation, where we design the cabinet and submit a working draft for your approval.
The third phase is the completion of the project, where your concepts are turned into reality.
We believe that each home is unique, hence the broad range of choices we provide to allow you the opportunity to come up with cabinet concepts that are perfectly suited to you. From selecting door styles to the accessories you prefer in organizing your space, your choices will lead to the final design of your custom-made cabinet. Rest assured, we have the expertise and experience in building the cabinet you dreamed of for you. Call us to schedule that free consultation with one of our experts.