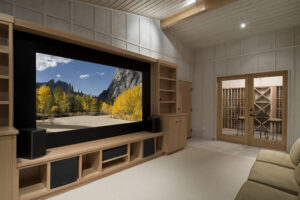 Is entertaining at home a huge part of your lifestyle? Is watching movies a passion? Do you want to disguise the presence of technology in your home?
If you answer "yes" to any of these, then it makes sense for you to invest in a custom entertainment center.
Whether you end up installing it in the basement, the attic, the den, or even the deck, it's important that you go to an excellent custom cabinet maker for an expertly crafted entertainment center or home theater suite.
We build top quality entertainment centers and specialty casework to suit your unique needs.
We can help you choose the right kind of wood, the most fitting finish, and the most suitable hardware for a gorgeous and practical cabinet design.
Since we specialize in handmade custom cabinets, we can let you choose from a wide selection of woods, finishes, hardware, moldings, and any other element you may want and need for your unique entertainment center. We cater to both residential and commercial properties, offering a wide variety of custom cabinetry.
We make sure we deliver both function and aesthetic value, bringing them together to blend with the rest of the space in a seamless fashion. We know how to make your dream cabinet a reality. We offer experienced design and first rate craftsmanship. We take pride in our work and stake our reputation into every little detail of our products.
We shall make sure your entertainment center is however you want it to be.
Many of our clients want a way to keep their TV and audio equipment inside wood cabinetry that organically blends into the room. They stay hidden until they are to be used.
At the end of the day, entertainment centers can be more than just a way to attractively store these things; they are also tools to save space and preserve the aesthetic of the room, disguising the presence of what may be perceived to be garish modernity and not allowing it to take away from the spatial harmony.
It takes skill and know-how to achieve this. We're glad to say that experience has made any kind of custom cabinetry work simple for us.
If you're looking for custom furniture, Entertainment Centers, and other specialty casework in Salinas, CA, come to our office and let's discuss how we can turn your vision into reality.
We're known for both top quality and fair price.