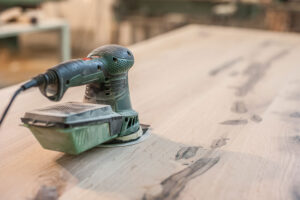 Refacing is the more affordable option in updating your cabinetry.
For instance, if you need to keep the existing layout of your kitchen but want to give it a new look, kitchen cabinet refacing or resurfacing is the answer.
This allows your kitchen to remain intact while also transforming its appearance.
Compared to replacing, this is much cheaper, allowing you to save money while achieving the same end.
Besides your kitchen cabinet resurfacing is also possible to do on vanities, pantries, islands, built-ins, entertainment centers, etc.
What are the ways in which Refacing and Resurfacing can uplift your kitchen?
We are a custom cabinetry company, which means that you won't be frustrated with a limited selection from a catalogue as you might with the usual storefront refacing company.
We can paint the cabinet doors and drawer fonts, cover the exterior with new wood for a new stain color, and change the door style.
We offer more colors and styles than other cabinet refacing services, thanks to the custom work that we do. If you have a specific look in mind or have found something on Houzz or Pinterest that grabbed your fancy, we can replicate it.
We can make your cabinets exude an entirely different style – contemporary, traditional, transitional, English, French country, or any other look you want to achieve.
Another benefit of engaging our refacing services is that we can easily add or change anything in your cabinetry in case there's something that you want customized differently.
That's the beauty of working with us — we can do both custom modification and refacing work.
We take pride in our excellent workmanship, competitive rates, and awesome customer support.
We are the favorite full-service custom cabinet company in our area. Our customers know that we make use of domestic grade A materials as well as local talents and appreciate our way of supporting our economy.
Let us help you give your cabinets a new look. With our high quality, custom cabinetry expertise, we can make them look far better and more special than any cabinet that was mass-produced in a factory.
If a unique look is what you're after, that's exactly what we'll provide in refacing your cabinets.
Do you want to revitalize your cabinets and, in the process, give your space an entirely new look without the expense and hassle of replacement? Give us a call and talk to one of our custom refacing experts.